Many of the cheeses I have made involve adding two cultures, Swiss and Jarlsberg, Manchego, to name a few, however, I haven't made many that require 2 mesophilic cultures. I started reading Mastering Artisan Cheesemaking some time ago and I am fascinated by many of the recipes.  They are more about technique than about the name on the cheese.
Today I made "same temperature, light brine, washed cheese" p260, it most closely resembles Havarti or St. Paulin.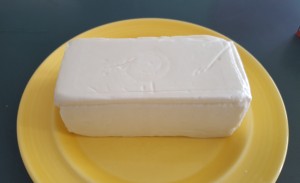 The creamery also created a name for the cheese they were making, Takelma after native Americans close to where they make cheese.
This was also a chance to try out my new cheese mold that has a built in cheesecloth. I ordered the new mold from Amazon using Christmas cash.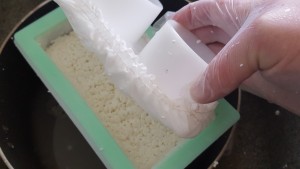 I love it when Christmas extends all the way to April. The mold is super sturdy, easy to use, easy to clean. Wish I had a couple.
Ingredients:
2 Gallons Whole milk
1/8 tsp. MM100 Mesophilic
1/16 tsp. C61 Mesophilic (Called for LM)
1/4 tsp. rennet
1/2 tsp. Calcium Chloride
Directions: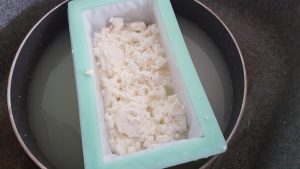 Heat milk to 79°  – mix in cultures, let sit for 5 minutes,
Stir for 2 minutes – Up and down motion, not stirring motion. (PH was 6.34)
Continue to Heat to 89°
Stir in Calcium Chloride for 1 minute – let rest for 5 before proceeding
Add Rennet for 1 minute, goal time is 45 minutes
wait for clean break, cut 1/4inch cubes slowly…over 20 minutes
Let rest for 15mins.
Heat 1 gallon of water to 89°  –
Drain off 1 gallon of whey, slowly add water and 1 teaspoon of salt while stirring
Stir and heat to 100°  –  over a 30 minute period
Press under whey for 10-15 minutes ( I put a plate on top of the curd and placed a half filled milk jug on top)
Drain whey and place into mold – pressed with 4 lbs for 15 mins.(Probably should have been 2 lbs.)
Flip curd for 30 and double the weight
Flip for an hour, flip for 8 hours
Brine for 2-3 hours per pound( I went for 4 hours total)
Pat dry and put in frig.
2-3 months aging. Can be washed or waxed.
Note: When I began to age this cheese, I placed it into the wine frig and wiped it daily with a brine solution. After just a few days the top started to look dry and cracked, so I flipped it washed it in brine. Then the other side started to look the same, until I placed it in tupperware and the cheese is looking great.  I also put 4 drops of Annatto into a cup and half of brine and used it to wipe down the cheese daily.  It is aging as well as anything I have had in the frig. Higher humidity may be the answer, but if you can't keep up the humidity, tupperware is the answer.