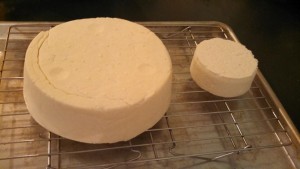 December 22, 2014 My first cheese try – Jarlsberg
I first took a class with my wife to learn to make Alpine cheeses.  From that class, I received this recipe for Jarlsberg.  I began by gathering all of the things I would need and make the cheese. 14 hours after I started I was ready to press my cheese. The smaller cheese in the picture was a wheel made from the whey.
The milk came from Cozy Cow Dairy, 2 gallons made a 2 lbs. wheel.
Their milk is super amazing, the best I have seen for cheese.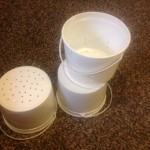 I discovered very quickly that a mold to press the curds into was going to be very expensive , so I decided to go with free! These buckets are usually used for soup, but they nest nicely, so they make a great wheel. I drilled the one used on the bottom so it drains well.
Update 1:  Because I was new to cheese making, I bought wax from hobby lobby(paraffin). The wax was very brittle and so when I turned the cheese little cracks happened in the wax.  After a couple weeks I could see mold growing under the wax.  Watching the mold grow week after week, caused me a lot of anxiety. So I purchased some cheese wax and began the process of peeling off the paraffin and cleaning up the molds.  Red, Black, yellow, white, I had them all!  I cleaned it with brine as best I could and cut off a little cheese where the mold wouldn't come off.  Then I re-waxed them and put them back into the frig.  NO PROBLEM.
Update 2:  June 2015, This cheese is very delicious! After 6 months under wax it continues to get better.  It doesn't taste like Jarlsberg to me, but it is good.
Update 3:  We finished eating the last of this wheel in September 2015 and it was amazing, well worth the wait.